October 21, 2021
David M. Einhorn Center for Community Engagement dedicated
By James Dean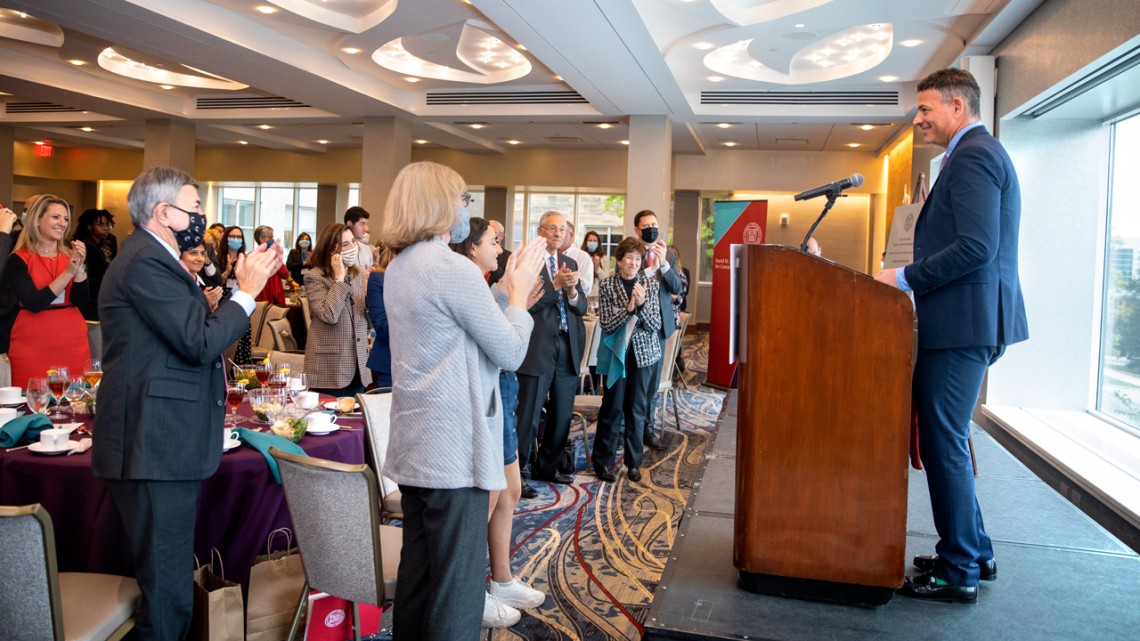 An Oct. 22 ceremony in the Statler Hotel formally dedicated the David M. Einhorn Center for Community Engagement, honoring Cornell Trustee David M. Einhorn '91, who has provided endowment funding for the center through his foundation, Einhorn Collaborative.
Advancing efforts to make community-engaged learning a hallmark of the Cornell student experience, university leaders and trustees on Oct. 22 formally dedicated the David M. Einhorn Center for Community Engagement in a ceremony at the Statler Hotel.
The Einhorn Center further establishes Cornell as a model for publicly engaged universities, building upon the university's founding land-grant values.
Cornell Trustee David M. Einhorn '91, who has provided endowment funding for the center through his foundation, Einhorn Collaborative, said the center would help equip students with the knowledge and empathy needed to address pressing social problems.
"Community-engaged learning fosters self-reflection and enables students to build positive interpersonal relationships with people of different backgrounds and world views," Einhorn said. "It helps them recognize how interconnected and interdependent we are – as neighbors, colleagues and citizens."
Community-engaged learning, he said, is a win-win benefitting both students and the community partners who help lead and shape collaborations that develop deeper understanding.
"Engagement goes both ways," he said. "It's mutual."
President Martha E. Pollack and Robert S. Harrison '76, chairman of the board of trustees, joined Einhorn for the unveiling of a plaque that will be placed in the Engaged Cornell Hub in Kennedy Hall. It recognizes Einhorn for his vision and support "enabling students to lead positive change in the world and inspiring a legacy of engaged Cornellians."
That legacy lies at the heart of the university's mission to create knowledge for a public purpose, Pollack said.
"When people ask me what engagement means, I say it's taking everything we do, and learn, and know, and create here at Cornell, and bringing it out into the world," Pollack said. "It's connecting our campus community, and the work we do here, with communities around us – across the state, across the nation and across the globe."
Examples, she said, range from Cornell Cooperative Extension internships, to Center for Teaching Innovation workshops, to community-engaged learning opportunities – whether at a nearby elementary school or a Kenyan farm.
Harrison recognized Einhorn for his leadership as a trustee, including serving as co-chair of the Academic Affairs Committee and a member of the Executive Committee, and for his longstanding commitment to broadening engagement experiences at Cornell.
"We look forward to seeing the continuing rise of the profile of public engagement across the university," Harrison said. "Never before in the history of this land-grant university … have Cornellians had so many pathways to impact the lives of people everywhere."
The David M. Einhorn Center for Community Engagement officially began operations in July, integrating the Office of Engagement Initiatives and the Cornell Public Service Center. The center serves as a coordinating hub that connects students with high-quality engagement and service opportunities through coursework, research and co-curricular activities, and also supports faculty and staff with funding opportunities that build their capacity as community-engaged educators and scholars.
The center is led by Basil Safi, its executive director, and Krista Saleet, deputy executive director; and overseen jointly by Katherine McComas, Ph.D. '00, vice provost for engagement and land-grant affairs, and Ryan Lombardi, vice president for student and campus life.
McComas called the new organization a "momentous leap forward" in Cornell's commitment to community-engaged learning and hundreds of community partners.
In 2021, she said, nearly 5,000 undergraduates – twice as many as five years ago – took courses that incorporated community-engaged learning. The Engaged College Initiative is embedding such programming in college missions, McComas said, helping to meet growing demand from incoming students who rate public engagement as "very important" to their college choice.
"With the launch of the Einhorn Center, we're prepared to meet that demand and to do more to foster community engagement," McComas said, "and to help prepare students for generations to come to become bridge-builders in our society who seek to connect with the world around them in meaningful, beneficial ways."
Lombardi said opportunities connecting Cornell's top-tier academics with students' lived experience are "where the magic really happens."
"These co-curricular experiences provide the spark for students," he said, "helping them answer not just what they want to do, but who they want to be."
Lombardi said the center would engage alumni in an advisory capacity to help advance its mission, make community connections and mentor students.
Joining Einhorn for the celebration were his parents, Stephen Einhorn '64 and Nancy Einhorn '64; brother Daniel Einhorn '95; and children Rachel Einhorn '19, Naomi Einhorn '21 and Mitchell Einhorn. Also present were two Cornellians with senior roles at Einhorn Collaborative: Jennifer Hoos Rothberg '04, MRP '05, the executive director; and Itai Dinour '01. More than 150 students, faculty, staff and community partners also attended.
Inviting others to support the initiative, Einhorn said the new center sets itself apart because it is designed to support and inspire all Cornell students across every facet of campus life – through their courses, residence halls, clubs and teams – to pursue high-quality, community-engaged learning experiences.
"Our country is currently facing multiple crises, and there's no doubt that we have a responsibility to help our nation heal," Einhorn said. "Imagine the role that Cornellians can play in helping lead the way."