August 2, 2023
Engaged Opportunity Grants fund projects from Tompkins to Tanzania
By Ashlee McGandy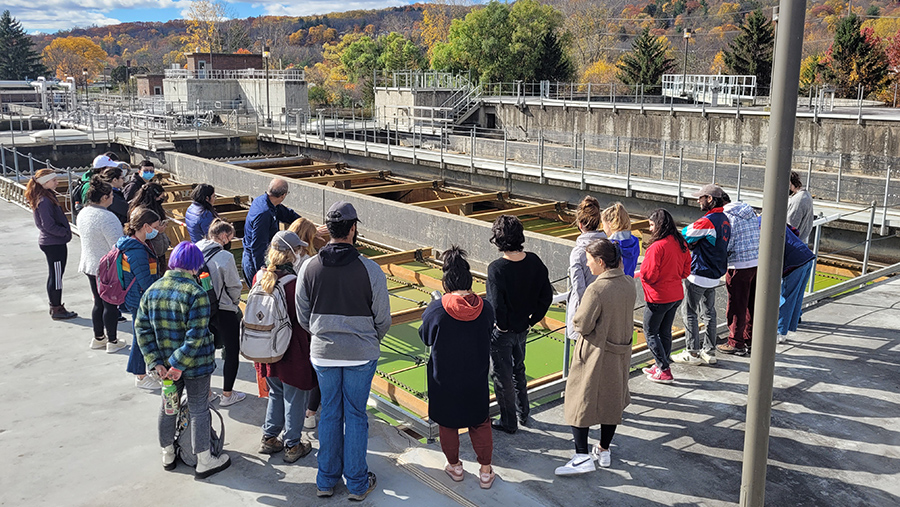 Students visit the Ithaca Area Wastewater Treatment Facility. IAWWTF is a key community partner in a project studying contaminants in Cayuga Lake.
The Einhorn Center for Community Engagement awarded summer 2023 Engaged Opportunity Grants to five teams of faculty, staff and community partners. The funded community-engaged learning projects provide opportunities for students to study "forever chemicals" in Cayuga Lake, excavate ancient Pompeii, establish a community garden in Moshi, Tanzania and more.
Open to faculty and staff from many Cornell schools and colleges, Engaged Opportunity Grants support ways for undergraduate students to get involved in community engagement — through courses, faculty-led research and other projects. This summer's grantees will provide new opportunities for about 150 students.
The Einhorn Center awards Engaged Opportunity Grants three times a year.
Learn more about the summer 2023 Engaged Opportunity Grant recipients by following the links below: 
Art, Ecology and the People of the Mohawk River
Community-engaged learning in the capstone course for Environment and Sustainability majors
In a new capstone course, Environment and Sustainability students learn about the ecology, geology and people's history of the Mohawk River watershed in New York State. Through field trips, lectures and community engagement, the students gain an understanding of inequitable distribution of flood and drought vulnerability, explore traditional ecological knowledge and learn about water quality, restoration and riparian systems.
A Community-Engaged Healing Garden in Moshi, Tanzania
Decolonizing the ways public gardens create and sustain plant collections
This grant team is building on an international partnership that brings together faculty research and longstanding collaborative student programs between Cornell and Kilimanjaro Christian Medical Centre in Tanzania. The team's immediate goal is to build a community-based infrastructure for the living collections of a decolonial teaching, research and healing garden at the teaching-research hospital.
Unearthing and sharing stories of Roman daily life
The eruption of Mt. Vesuvius in 79 CE preserved the details of daily life in Pompeii in ways that resonate with all who visit. With the help of undergraduate and graduate student volunteers and international partners from the University of Bologna, this project team is excavating and virtually reconstructing one of the largest gardens in Pompeii.
"Forever Chemical" Contaminants in Cayuga Lake 
Engaging with wastewater treatment plant staff to consider issues and options
In partnership with a local nonprofit, the Chris Dennis Environment Foundation, a Cornell class is engaging with wastewater treatment plants that discharge into Cayuga Lake, studying ways to manage per- and polyfluoroalkyl substances (PFAS) there. Exposure to certain PFAS may lead to adverse health outcomes, and wastewater treatment plants are recognized as having an important role in the PFAS cycle.
Pro Bono Reentry Legal Assistance
Outreach and resources for formerly incarcerated people
In this project, Cornell law students and undergraduates work with attorneys to close the gap in available services for formerly incarcerated people. The students and attorneys develop informational resources, conduct outreach with service providers and study case outcomes.