February 12, 2020
Four students receive Robinson-Appel Humanitarian Awards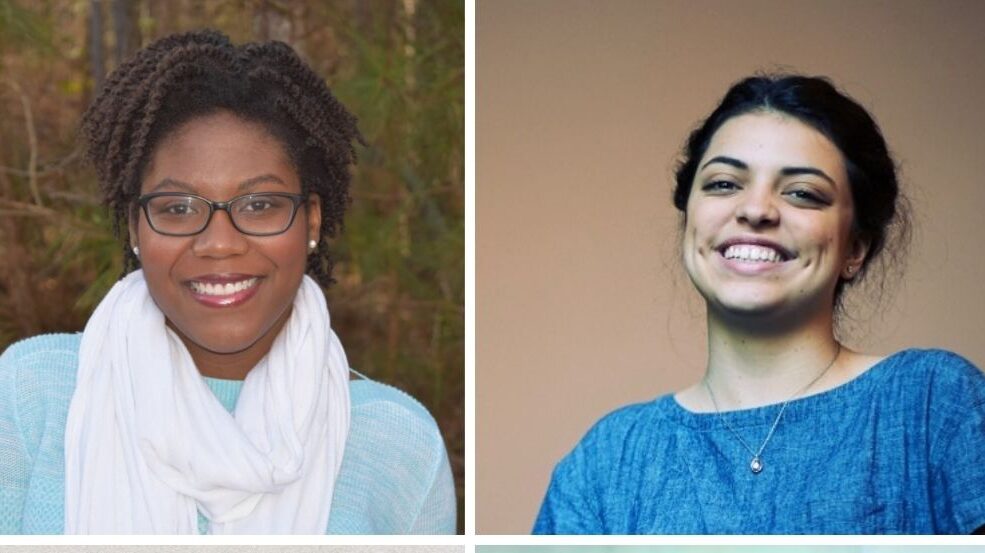 The Cornell Public Service Center is pleased to announce the four recipients to receive the Robinson-Appel Humanitarian Award for 2020. The award, usually presented in the spring, was pushed to the fall due to the university's shutdown in March. Each project receives $2,500 to further students' efforts. The recipients are Zelia Gonzales '21 for Rebel Ventures Network, Pridha Kumar '22 for YOURS, Karina Popovich '23 for Makers for COVID-19, and Carley Robinson '20 for Civic Ensemble's ReEntry Theatre Program.
Carley Robinson '20 is a senior Human Development major. She's been working with Civic Ensemble for two years and cannot wait to continue with their ReEntry Theatre Program. Their upcoming workshop of Delia Divided will be happening in May. Delia Divided is a devised work surrounding mental health and reentry. The Robinson-Appel Award will help Civic Ensemble and Carley further the reach of the ReEntry community within Tompkins County. These stories are representative of over 100 different people within Tompkins County who have been court-involved. Continuing to tell these stories helps destigmatize mental illness and incarceration. This is her final semester at Cornell; however, this award will allow her to continue working with Civic Ensemble post-graduation. She is excited to forge her path as a storyteller and build those skills in all communities she is a part of, centering the voices of marginalized communities and empowering them to take space.
Zelia Gonzales '21, returned to Cornell after a year off exploring local government, cannabis policy and consulting, retail entrepreneurship, and cultural arts non-profit work, her most meaningful work was with young people, serving as a mentor in my community. Industrial and Labor Relations gave her the space to articulate and build on all that she had learned, and her peers in MEChA de Cornell allowed her to practice her leadership. After graduating this May 2021, she looks forward to working full time with Rebel Ventures Network, creating a radical program for youth development. Rebel Ventures Network is a curriculum and training for youth development through individualized project incubation and peer-support-networks. They welcome young people to develop their sense of self & self-efficacy, to challenge institutions and re-envision power structures, and to realize a lifelong network of reflective, grounded leaders. Their curriculum rewards learning from failure and practicing the actions most often used against black and brown young people: disrupting, fighting, questioning, building, and inciting for good. The award funding will allow them to compensate mentors and facilitators for their time as they guide participants through the curriculum in our pilot this Spring! Rebel Ventures Network has challenged Zelia to think outside of the box for post-graduate studies. Instead of following a traditional route into graduate school right away, she will be pursuing a certificate in sustainable entrepreneurship to better build and grow this project and whatever comes next.
Pridha Kumar '22, a student in the College of Human Ecology, majoring in Human Biology, Health, and Society. She is on the E-Board for Youth Outreach Undergraduates Reshaping Success (YOURS), which is an organization that connects low-income youth in the Dryden area with Cornell student mentors in an afterschool program. Their new virtual 14-week mentorship program aims to alleviate the effects of social isolation and lack of companionship by re-establishing the integral on-one-on mentor-mentee relationship that has been disrupted due to the COVID-19 pandemic by hosting exciting and educational online programs. The Robinson-Appel Award will aid in purchasing supplies for their 14 unique activity kits and delivering them to the youth each week for program. YOURS was the first organization Pridha joined when she transferred to Cornell, and she immediately fell in love with its people and mission. It means a lot to her and everyone involved with YOURS to keep the program running in these unprecedented times in a novel format. Apart from YOURS, she is co-chapter leader for Cornell's chapter of Project Sunshine, a non-profit organization geared towards volunteering with and supporting hospitalized pediatric patients nationwide, a member of the Outreach Committee for Cornell Undergraduate Research Board (CURB), and a Cornell Tradition Fellow. She is also a volunteer EMT in NYC and loves working with kids in her free time. She hopes to work in the field of healthcare in the future and have her own dairy farm!
Karina Popovich '23 is an undergraduate student at Cornell University's prestigious Dyson School of Business where she is pursuing a career at the intersection of entrepreneurship, technology, and social impact. She has a blazing curiosity for all-things tech, specifically 3D-printing. During the pandemic, Karina founded Makers for COVID-19, a coalition of 3D-printer owners from around the world who 3D-printed and donated 82,000 units of PPE to medical workers in the United States. She was honored by Entrepreneurship at Cornell and the Clinton Global Initiative University COVID-19 Response Award for her work. Makers for COVID-19
is recruiting high school and university makerspaces and student teams to form PPE production and distribution chapters. With the support of their makerspace faculty and a Makers for COVID-19 mentor, student teams will build their own organizations that provide PPE to their communities. Students will properly produce PPE such as face shields and fabric masks, find facilities in need (reopening schools, clinics, homeless shelters, and more), and facilitate safe and sanitary donations. While learning key leadership skills through experience, students also get a number of professional development opportunities ranging from future internships with our program partners to learning how to fundraise. All student teams will receive seed funding with the intention of them fundraising towards the end of the program in order to be fully sustainable. Beyond COVID-19, they hope that these school-affiliated chapters can continue social impact through making 3D-printing prosthetics.
The Robinson-Appel Humanitarian Award was established by alumni Gerald Robinson '54, Margot Robinson '55, Robert Appel '53 and Helen Appel '55. It recognizes and honors students who are significantly involved in community service and supports the students' service-based projects. The award is facilitated through the Cornell Public Service Center and will be offered again in the spring semester '21. Please visit the website for deadline and application information.