May 5, 2022
Maribel Garcia Awardee increases connection through student stories
By Ashlee McGandy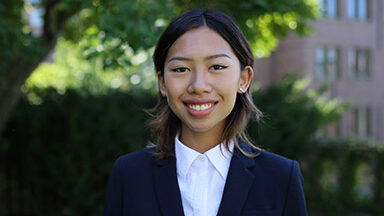 What's it like to have three parents? Or be a drag queen? Or move nearly every year of your life? Or dance everywhere you go on campus?
These are the kinds of Cornell student stories that inspired Izabelle Kwan '24 to launch Big Red Heads Magazine.
With the goal of increasing diversity and inclusion in student-run groups and creative organizations on campus, Kwan founded Big Red Heads as a welcoming space for all Cornellians — particularly low-income individuals, people of color and people whose body types do not fit a narrow definition of beauty.
"At the surface level, Big Red Heads Magazine is a student organization that aims to showcase the incredible diversity of thought and experiences within the Cornell community through funny, anonymous interviews and student art features," Kwan said. "But it is so much more than a club. It is a revolution."
The project earned Kwan the 2022 Maribel Garcia Community Spirit Award, facilitated by the David M. Einhorn Center for Community Engagement. The annual award honors a Cornell student who is making a remarkable contribution to the spirit of humanity. Kwan received the award at the Einhorn Center Celebration event on April 25.
Kwan, a student in the Dyson School for Applied Economics and Management, launched Big Red Heads on Instagram in March 2021. After realizing she was meeting "more people with interesting stories than [she] could count," she began interviewing individuals, editing their conversations into succinct Instagram posts and sharing them on the social media platform. The page quickly gained a following, and Kwan recruited friends with a similar passion for people and storytelling to launch a new student-run organization. The group published their first print issue of the magazine that December.
The ultimate goals of Big Red Heads: promote open-mindedness, inclusion and acceptance.
"By showcasing these stories, I might be able to get people to be less judgmental of others for trivial, uncontrollable things such as social class and race, and see the big picture," Kwan said. "Cornell is one of the most diverse communities most of us will ever experience. By changing students' idea of what matters in a person, we are building a better Cornell."
Amy Rosenberg '95 and Sam Shaber '94 established the Maribel Garcia Award in 2007 to honor the memory of Garcia, a 1995 Cornell graduate who was a creative, inspiring and energetic member of her community. Garcia died in a car accident in 1997. Previous award recipients have been recognized for their work on student-veteran program housing, Chinese language emotional support services, Black graduate and professional student support and much more.