March 24, 2021
Newman Civic Fellow works for meaningful change
By Mary Catt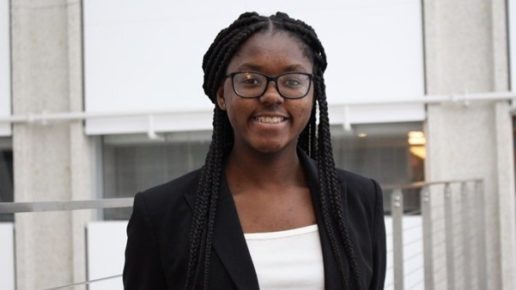 Growing up in the Bedford-Stuyvesant neighborhood of Brooklyn, Sherell Farmer '22, named this month by Campus Compact as Cornell's 2021-22 Newman Civic Fellow, was well aware of the inequalities so sharply juxtaposed in New York City.
"It was everywhere," said Farmer, a student in the ILR School whose commitment to working toward equality was first nurtured in her family's home. Every day, she was expected to read a page from a Black history book on a living room table. "My dad would say, 'OK, tell me what you learned today,' and I would sit down and recite it back."
In school, Farmer saw her classmates – primarily students of color – kicked out of class for days, despite the fact that would worsen problems, but heard from her father about wealthy students in Manhattan traveling the world and receiving private tutoring.
"Something about that is uncool," she remembers thinking.