August 4, 2022
Niemi wins Kaplan Family Fellowship
By E.C. Barrett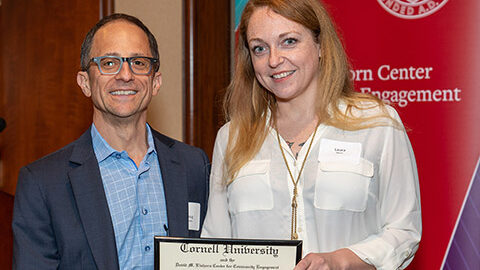 Douglas Kaplan '88 presents award to Laura Niemi.
Laura Niemi, assistant professor of psychology in the College of Arts and Sciences (A&S) and management and organizations in the Cornell SC Johnson College of Business, has won the 2022 Kaplan Family Distinguished Faculty Fellowship for her work teaching applied moral psychology through community-engaged learning.
Given by Cornell's David M. Einhorn Center for Community Engagement, the Kaplan fellowship recognizes faculty members who have had a significant impact on undergraduate, professional or graduate education at Cornell by involving their students in service-learning programs. Niemi was honored for her course, Moral Psychology in Action.
Niemi's research focuses on the psychological underpinnings of why and how people judge each other, decide what is right and wrong, make choices to help or harm and live out their values. Shortly after joining Cornell in 2020, she spearheaded efforts to create a first-of-its-kind minor in moral psychology with community-based applications as a core component.
"Thinking about applications in moral psychology is helpful in guiding research and forcing us to think about what's really important in the world," said Niemi, an Engaged Faculty Fellow. "What are people concerned about, what do they want to fix? Morally and ethically relevant issues are a big part of people's lives. Applying moral psychology to those issues brings the theory to life for students, while preparing them to be leaders on the issues that are important to them."
The Moral Psychology in Action course, offered under the new minor and open to students universitywide, launched in spring 2022. In its first semester, 10 students worked with seven community partners specializing in areas including urban farming and sustainability, prison reform and city school grant evaluations.
One student working with the food rescue organization Friendship Donations Network (FDN) researched the disgust reaction caused by expired but edible food and designed an educational pamphlet to help shift consumer attitudes.
"So much perfectly good food is wasted because of a misunderstanding of what the labels mean," said FDN coordinator Meaghan Sheehan Rosen. "Even when people have the information that date labels do not indicate food safety, there is a tendency to question if the food is still good to eat. As a food rescue organization we encourage people to trust their senses rather than strictly following the date labels. It was a perfect match for the moral psychology course."
Prameela Kottapalli '23 worked with Justice for Migrant Families of Western New York, a community organization dedicated to directly supporting and advocating for migrants currently or previously detained at the Buffalo Federal Detention facility – New York's largest U.S. Immigrations and Customs Enforcement-owned immigrant detention center.
"The course taught me that effective, tangible change and academic disciplines are not mutually exclusive," Kottapalli said. "The readings and the class discussions really informed the way that I engage with the communities the organization serves. They made me more of a conscientious person. Now I'm continuing to do work with JMF after this semester, and that was informed by the ways in which I grew through the course."
The Kaplan faculty fellowship was established in 2002 by Barbara Kaplan '59; her husband, Leslie Kaplan; son Douglas Kaplan '88 and daughter Emily Kaplan Dodge '91. It comes with a $5,000 award to further develop community-based learning, which Niemi will use to compensate up to 10 community partners over the next two iterations of the course.
"This award is really meaningful to me, because it's an open question what applied moral psychology is going to look like and I'm really passionate about connecting the theory and methods to applications," Niemi said. "I'm incredibly grateful for the support I've received from Cornell."