November 8, 2023
Partnership raises awareness of childhood abuse and neglect in Vietnam
By Jackie Swift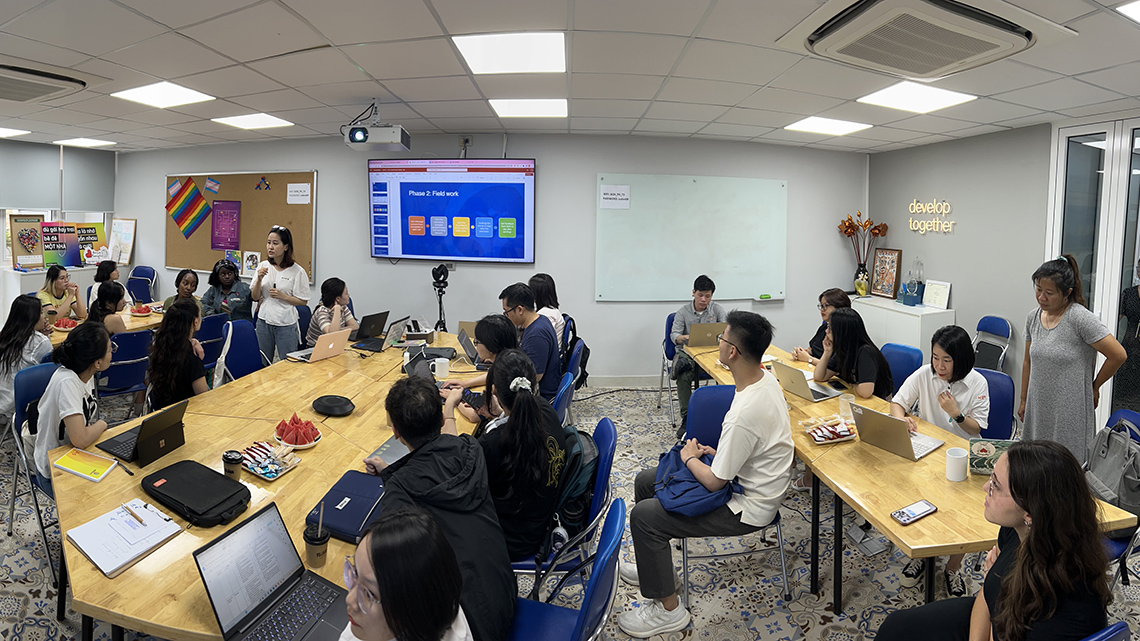 SCDI's Trang Minh Nguyen, program manager for harm reduction and addiction treatment and children and youth programs, speaks to the team in preparation for work with VACEP storytelling partners in the SCDI offices in Hanoi. Photo by David Koh / VinUni
This summer, a team of 18 students — 10 from VinUni and eight Cornell undergraduates — contributed to the Vietnam Adverse Childhood Experience Pathfinder (VACEP) project, an effort to address a pressing issue impacting young people in Vietnam. VACEP, started by the Vietnamese NGO Center for Community Development Initiatives (SCDI), gave students the opportunity to learn from and with marginalized people who have suffered adverse childhood experiences (ACE), such as abuse, neglect and abandonment.
The six-week-long program springs from a partnership between the universities which started when VinUni was founded in 2018 and Cornell started consulting to help the nascent school establish itself as a world-class institution. The SC Johnson College of Business is spearheading the work through design and development expertise informing the creation of VinUni's colleges of business, engineering and computer science, and arts and sciences. Cornell's David M. Einhorn Center for Community Engagement came aboard to build VinUni's understanding of and capacity for public engagement.
"As we worked together to build VinUni, we also shared with our Vietnamese counterparts Cornell's philosophy on community engagement," said Thao Ly Bui Tran, MMH '12, director of the Cornell-VinUni Project. "We emphasized that VinUni should not only develop students that do well on their academic journey but who also are valuable and useful to society and to the community."
To establish community-engaged programming opportunities for VinUni students and expand global engagement opportunities for Cornell students, VinUni partnered with SCDI, and VACEP was founded in winter 2021.
"David Koh, VinUni faculty member and one of the leaders of the program, called it a 'tri-party collaboration, which was a wonderful way of phrasing it," said Amy Somchanhmavong, MILR '02, associate director of global community-engaged learning programs at the Einhorn Center who has accompanied two trips. "Partnering with an NGO — and one as well-known and highly regarded as SCDI — was key to the success of this project."
Through the program, cohorts of Cornell-VinUni students have been collaborating to illuminate the concept of ACE and the long-term impact it can have. Working with SCDI, the students help conduct literature reviews and pinpoint feasible interventions.
This summer, the third cohort of Cornell-VinUni students met in Hanoi to put into practice one of those interventions: encouraging people impacted by ACEs to tell their stories publicly as a way to both empower the storytellers and to educate the community about the issue. Students in the cohort came from diverse majors and included Cornell students from the colleges of Business, Engineering, Human Ecology, Arts and Sciences and the ILR School. Teams of four students — two Cornell students and two VinUni students — met with individual Vietnamese storytellers, listened to their story and helped them craft it into written form.
"The students co-created this program with support from SCDI staff and Cornell and VinUni mentors," said Thuy Linh Nguyen, SCDI deputy director. "Together we identified and shaped the purpose, method and expected results of the project. SCDI staff accompanied the students throughout the process of working with the storytellers, not only to guide the students but also to learn from them and to share the experience."
While SCDI has the expertise to connect with marginalized people, Nguyen said that the NGO is not as strong in academic research. "We need external support to be able to build evidence-based interventions," she said. "The collaboration with Cornell and VinUni enables us to access the huge resources of knowledge and expertise in this matter."
To enhance student learning, Koh said, "There was a real need for both Cornell and VinUni students to have exposure to other cultures."
Gaveal Fan '25, a Cornell student in the College of Arts and Sciences, says the experience gave her an opportunity to forge new friendships and cross-cultural understanding. But just as importantly, it gave her a new perspective on life. "It made me revisit the importance of humanitarian connections, of communicating with people who may seem very different," she said.
The students worked with four storytellers identified by SCDI to develop the telling of their life stories. The stories the students ultimately heard were powerful, said Thu Doan, VinUni medical student.
"The storytellers we worked with have such admirable strength and resilience," Doan said. "They came to us to tell stories they have hardly told anyone else. The burdens that each of us carry are greater than we can imagine. Maybe we'll never meet them again, but I appreciate that they entrusted their life stories to us."