April 12, 2022
Student Translator-Interpreter Program breaks language barriers
By Caitlin Hayes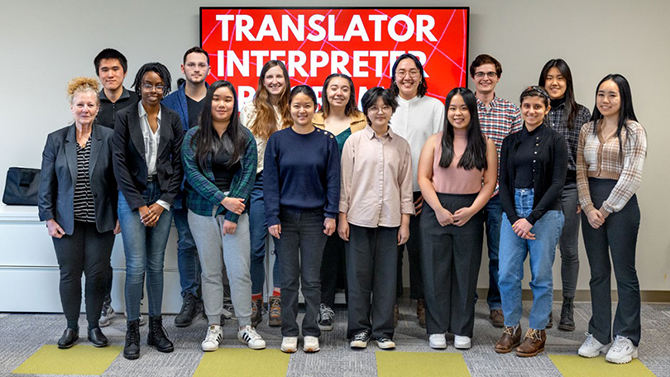 Members of the Cornell Translator-Interpreter Program pose for a portrait in Kennedy Hall.
Growing up, Anna Chen '24 observed firsthand one of the primary barriers for immigrants: language.
The daughter of Chinese immigrants, she often served as the interpreter and translator for her parents and extended family. "I saw how they were penalized for not being able to speak English fluently," she said. "I personally witnessed what it's like to have language needs not met."
When Chen came to Cornell, she gravitated to the Translator-Interpreter Program (TIP), a student-run program of the David M. Einhorn Center for Community Engagement that trains bilingual and multilingual students to serve as translators and interpreters for the community in both emergency and non-emergency situations. Those benefiting from the program's services are most often immigrants, refugees and asylum-seekers who are navig­­ating – with limited English-language skills – an unfamiliar culture with complex legal, employment, health care and social services systems.
"What drew me is being able to use my language skills to help bridge these gaps and barriers, to create a more equitable community," Chen said.
The program has 45 active translators and interpreters, with 14 languages represented, and has worked with over 300 community agencies since its founding in 2000 by Fatema Sumar '01. A 23-member student executive board coordinates comprehensive trainings for volunteers, community agencies and university departments, with an emphasis on equal partnership. Language faculty certify volunteers' language proficiency through exams that simulate emergency situations, ensuring students' readiness to provide services to the community. Students responded to 39 community requests in the fall 2021 semester alone.
"There are so many people in our community who don't have access to services because of language barriers," said Joyce Muchan '97, co-founder and adviser for TIP and assistant director of student programs at the Einhorn Center. "The language inequity in the community is reflected in the depth and scope of the work the students do."
When requests come in, a student incident coordinator contacts the appropriate volunteers, sometimes on very short notice. Student interpreters have been called into high-profile emergency situations: after an armed robbery of a Chinese restaurant in Dryden in 2003, a shooting at the American Civic Association in Binghamton in 2009, and the crash of a tractor-trailer into a restaurant in downtown Ithaca in 2014, for example. A local fire – where a family couldn't communicate with emergency responders – inspired Sumar and Muchan to found the program.
Recently, TIP volunteers worked with Cornell Law School's Asylum and Convention Against Torture Clinic to provide interpretation services for asylum-seekers who have suffered torture and persecution in their home countries. These clients have had difficulty navigating complicated asylum and immigration laws in the U.S., in part because of language barriers.
A recent case involved a French-speaking victim of torture from sub-Saharan Africa who was denied asylum after representing himself in court. In preparation for an appeal, a TIP volunteer helped clarify misunderstandings that were presented to the judge in the initial case.
"The TIP student allowed our law students to get to the heart of the case and help tell the story in a way that we hope will allow our client to prevail," said Ian Kysel, visiting assistant clinical professor of law. "In general, these impediments to language make it really hard for migrants to have the most basic experience of fairness within the system. It's a key prerequisite to the whole system of justice functioning as it should."
Promoting social justice
Other recent projects similarly reflect TIP's mission of providing equal access and promoting social justice. Students have served as interpreters and translators for Tompkins Community Action, a nonprofit that provides access to housing; for the Excluded Workers Fund, a fund for undocumented or partially documented New Yorkers; for the Global Strategic Litigation Council for Refugee Rights; and for domestic violence and homeless shelters, among many other projects.
For Chen, some of the most impactful work has been helping non-English speakers on campus. In collaboration with the Community Learning and Service Partnership (CLASP), TIP took on a semesterlong project of translating 10 different units of study materials into multiple languages for a highly technical food safety test required by all Cornell Dining employees.
"It's an amazingly diverse employee body in that department," said Sasha Endo, program liaison for CLASP. "Many have just arrived from their home country and started work, and these translations are a huge help and relief for people who are getting started here."
As for many student programs, COVID-19 presented hurdles – there have been fewer in-person connections made with local agencies, for example – but the pandemic, and the communications challenges surrounding it, have also further exposed the need for language equity.
"The pandemic showed the depths of the need, and the capabilities of our program and its extraordinary leadership met that need. The students have been, in the truest sense, the kind of leaders Cornell wants to have," Muchan said. "They've given an unprecedented amount of time and dedication, figuring out what needed to be done and how to do it."
TIP performed a significant amount of work for the Tompkins County Health Department, translating local Frequently Asked Questions documents about vaccines into 10 languages and providing scripts and voiceovers for public service announcement videos.
"We had to get information out fast, and that information was changing frequently," said Shannon Alvord, public health communications coordinator for the Tompkins County Health Department. "The more we can provide localized information within someone's own language, the more accessible and welcoming that information can be. We want to make sure those with low literacy or who don't speak English have the information they need to make decisions that will ultimately keep them safe. TIP really filled this gap in a time of need."
"The work with Tompkins County took a lot of coordination," said Jordine Williams '22, co-president of TIP. "But it felt significant and important because this is information we really wanted everyone in our community to have, especially amidst a lot of misinformation."
TIP is unique, Muchan said – especially because it is student-run, all-volunteer, and includes rigorous language certification by faculty. "Our student board members gain leadership skills geared towards listening and responding to the needs of the community in real time," Muchan said. "And the participation of the language faculty and their support of language equity allows this program to survive and flourish."
TIP has won numerous awards, including a Town-Gown Award and the Quiet Influence Award from Cornell, and the Corrine Galvin Humanitarian Award from the Tompkins County Human Rights Commission. And other universities have reached out for guidance on how to start similar programs.
"I've consistently been impressed by the dedication and sensitivity of TIP students," Kysel said. "We appreciate all the work they do – their flexibility, their humanitarian instinct, and their emotional and intellectual labor."