October 11, 2021
Students teach NYC teens about food systems, justice
By E.C. Barrett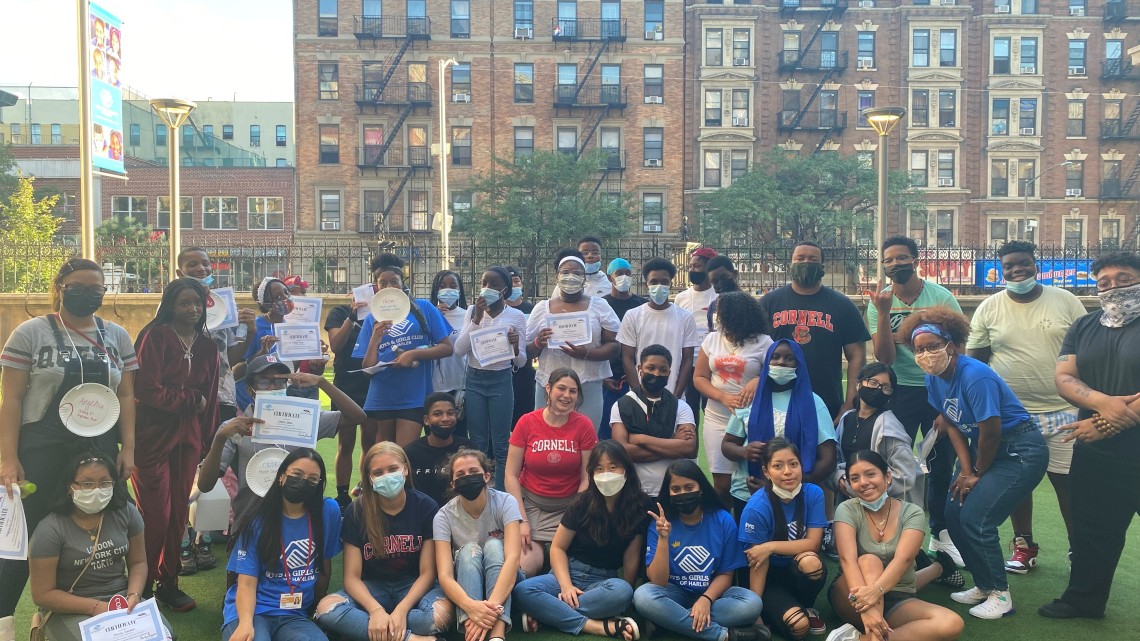 Youth participants and researchers celebrate the completion of the program at the Boys and Girls Club of Harlem. Members of the Leak research group, bottom left to right: Doctoral candidate Navika Gangrade; Thais Salas '23; Samantha Heller '23; Hannah Rudt '23, YeonJin Jung '22 and Dane Allen '23.
A recent study brought together Cornell students and faculty and New York City teenagers to explore how nutrition education can improve nutrition and promote positive youth development in places with little or no access to healthy, affordable food.
Over the course of 12 sessions, researchers in the lab of Tashara Leak, assistant professor in the Division of Nutritional Sciences, taught 36 teens about nutrition, food systems and food justice in partnership with the Boys and Girls Club of Harlem.
Navika Gangrade, a doctoral student in Leak's research group, led the study as part of her dissertation research. She said the study combined the lab's ongoing research around bodegas, which play an essential role in the food systems of low-income and minoritized communities in New York City, with innovative nutrition and youth empowerment education.