September 8, 2022
Orientation service connects students with local community
By E.C. Barrett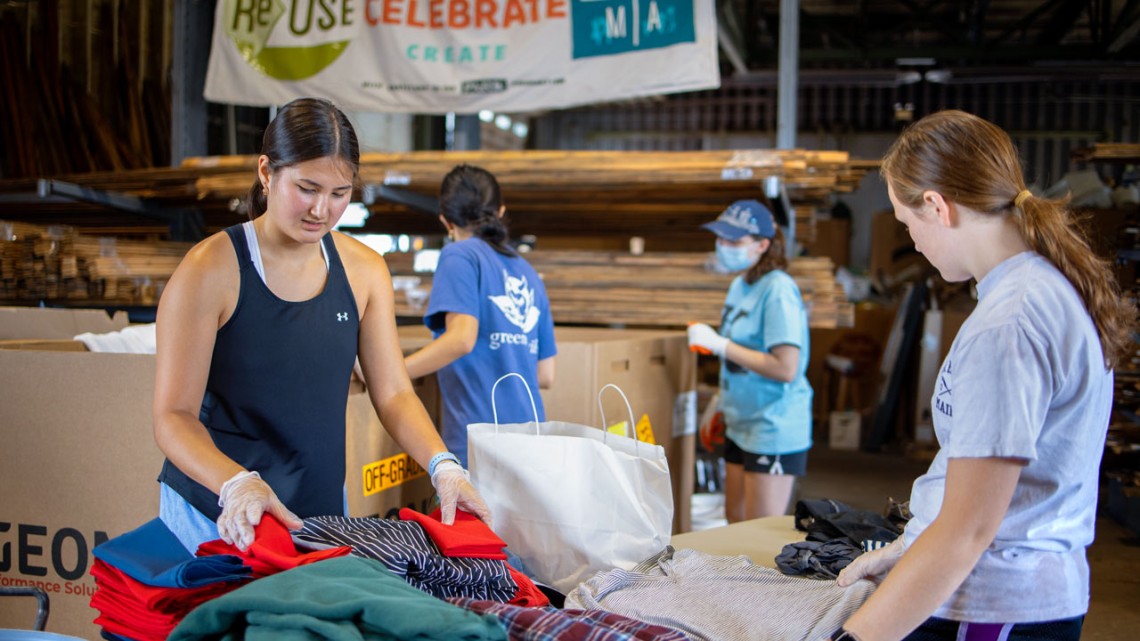 Incoming students worked at the ReUse Center during the Pre-Orientation Service Trips program. Chris Kitchen.
Cornell's Pre-Orientation Service Trips (POST) program enjoyed some pre-pandemic normalcy in August, with a larger group of participating students and a return to Boynton Middle School as host during the five days of service projects with Ithaca-area community organizations.
A program of the David M. Einhorn Center for Community Engagement, POST provides incoming first-year and transfer students an introduction to each other, returning student leaders and off-campus volunteering opportunities. Since its inception in 1996, POST has had 1,500 student participants volunteer more than 32,000 hours in the community.
From Aug. 13-17, a total of 43 new students worked in teams led by two or three trained student leaders, who themselves had participated in the program as incoming students. Work projects included:
helping to harvest and blend medicinal teas at OJI:SDA' Sustainable Indigenous Futures;
spending the day with a group of local youth new to the Big Brothers Big Sisters program;
preparing local schools for the start of the new year; and
clearing invasive species and sorting seeds to propagate native plants at Robert H. Treman and Taughannock Falls state parks.
Sage Clemenco, the Einhorn Center's community initiatives program assistant and co-coordinator of POST, said the five days of the program can have a sizeable impact for organizations.
"All of those things that are huge tasks to a small custodial staff — weeding the garden beds, washing windows, scraping gum off of desks or cleaning out lockers — can get done in a day with a group of 10 or 12 students and it really makes a big difference," Clemenco said.
Two teams worked at Finger Lakes ReUse, which salvages used building materials, household goods, appliances and clothing for resale, and operates a job training program in retail, customer service and technology. Students processed donated clothing, inspecting items for quality, in preparation for ReUse's annual tent sale.
"As one could well imagine, this is a time-consuming and careful operation," said Marissa McKown, ReUse's volunteer coordinator. "The POST teams helped ease the burden on our lean, non-profit staff to immediately share more resources for the Tompkins County community. It wasn't only the helping hands in speeding up our processing, but both events were amazing team-building opportunities. The students and staff got to know each other well and shared stories."
For Summer Hardy '23, a POST student leader for the last two years, the program was a foundational experience as a first-year student, introducing her to classmates who became best friends (including three of her five roommates) and student leaders who continue to offer her mentorship after they've graduated.
"I'm still friends with my leaders, and I ask them questions about things like the pre-med track pretty much every week," Hardy said. "So it's been a great support system, as well as a great way to give back to the community and have more social interaction with people before classes start."
Clemenco said the student leaders are integral to the success of the program, not only in making sure the daily activities run smoothly, but in the end-of-day reflections that happen when everyone gets back to Boynton.
"They're constantly talking with their teams about what it means to do service, to be part of a community and build relationships with nonprofits," Clemenco said. "There's a lot of meaning-making that is happening throughout the week, and the student leaders are big part of why POST runs deeper than just getting students out in the community to volunteer and then dropping them home at the end of the day."