Lori Frischer '96
College/School
Cornell SC Johnson College of Business
Alumni Advisory Council
Alumni Advisory Council, member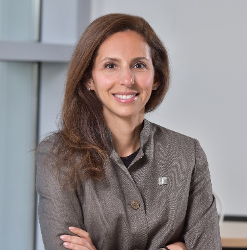 Einhorn Center Activities
Alumni Advisory Council Bio
Lori Frischer is senior vice president and managing director, W&AM Shared Services, Investment Advisers, and Institutional Services at Fifth Third Bank. Lori leads Shared Services overseeing strategy, marketing, client experience, communications, IT/Digital prioritization and data analytics, ensuring tight alignment across these channels. In addition, Lori leads Institutional Services, and RIAs – Fifth Third Wealth Advisors, Franklin Street and MainStreet Advisors.
Prior to her roles at Fifth Third, Lori served most recently as managing director at Citi Smith Barney, as director of project management for Private Client. Her background includes eleven years at Citi Smith Barney where she held roles in Sales and Marketing, Strategy and Finance. Lori began her career with JPMorgan Chase.
Lori holds a BS from Cornell in Applied Economics and Business Management, and an MBA from Fordham University in Marketing.
Lori is active in the Jewish Federation and associated agencies sitting on three finance committees, and she was previously selected to participate in the 2019-22 Wexner Heritage Program. She is an active alumni and interviewer for Cornell.
Lori lives in Cincinnati, Ohio with her husband Jason, children, Gabrielle and Caleb and dog Ace.