April 19, 2023
Robinson-Appel Awards honor student service projects with local youth
By Ashlee McGandy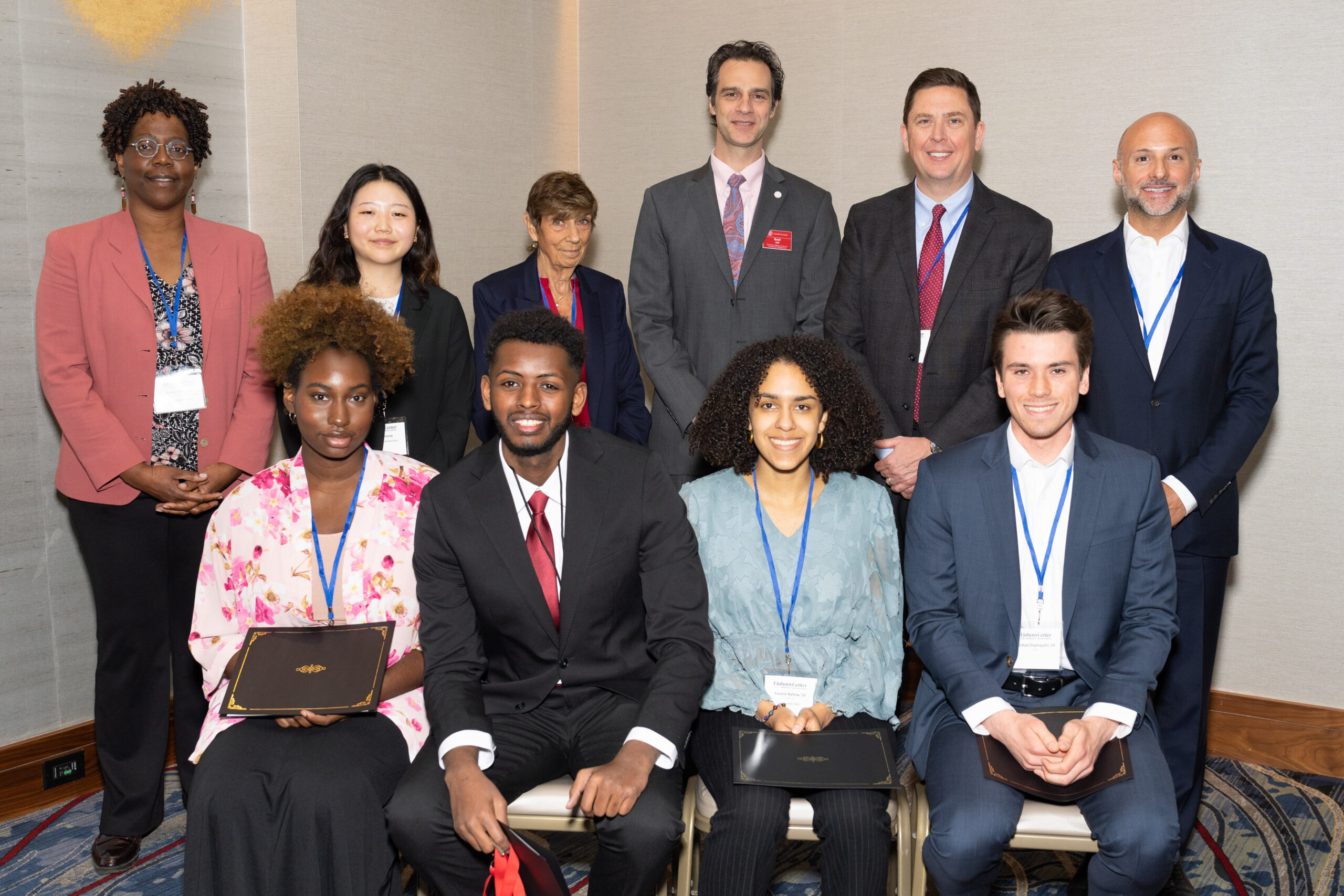 Front row (l-r): Alisha Robbins '26, Najeh Abduljalil '25, Yasmin Ballew '23, Michael Dicpinigaitis '24; Back row (l-r): Karen Yearwood, Adin Choung '26, Penny S. Haitkin '65, Basil Safi, Ryan Lombardi, Neil Giacobbi '96
On April 18, students received 2023 Robinson-Appel Humanitarian Awards in recognition of their significant involvement in community service. Najeh Abduljalil '25, Alisha Robbins '26, Yasmin Ballew '23 and Michael Dicpinigaitis '24 were honored for creating opportunities and improving access for youth from Tompkins County and the surrounding region. 
The award, which comes with a $2,500 prize, was established by Gerald '54 and Margot Robinson '55 and the late Robert '53 and Helen Appel '55. It is facilitated each spring by the David M. Einhorn Center for Community Engagement.
"Throughout the years, I have been truly awed by the student applicants, from first-year students to seventh-year Ph.D. candidates, who are truly working 'to do the greatest good,'" said Penny S. Haitkin '65, award committee member, at an Einhorn Center awards ceremony at the Statler Hotel.
This year's recipients are all working with local and regional youth, engaging them through sustainability research, diversity outreach and adaptive technologies. 
In January of this year, Najeh Abduljalil established a new student organization at Cornell called Research for Change South Central New York. Inspired by Research for Change Nevada — where Abduljalil worked as a lead researcher before coming to Cornell — the group empowers low-income high school students in the region to examine harmful demolition practices in their own communities and come up with sustainable alternatives.
Abduljalil is working with Alisha Robbins, a fellow urban and regional studies major in the College of Architecture, Art and Planning, to bring together eight to ten high school students for the project. With guidance from the Cornell students, the high schoolers will use photography and reflective interviews to collect data about local construction waste, learn about opportunities for deconstruction and reuse, and share the information with policy makers. 
The team is using the Robinson-Appel Award funding on project equipment, transportation costs and stipends for the student researchers.
Yasmin Ballew's project builds on her experience as last year's president of Alpha Phi Omega, Cornell's largest service organization with more than 200 members. Working with APO's current executive board, Ballew — a student in the ILR School — is using the Robinson-Appel Award funding to establish a partnership with the Greater Ithaca Activities Center, or GIAC, where APO members will volunteer on a biweekly basis, distributing school supplies and sharing information about the college admissions process, service opportunities and the importance of diversity.
With an increasing number of APO members coming from diverse racial and socio-economic backgrounds, they have the capacity and desire to serve as mentors, especially for youth who would otherwise not have these supports. Ballew's goals in establishing the partnership are threefold: to rebuild off-campus partnerships between community members and APO; to address inequitable access to education and service opportunities; and to improve diversity outcomes by addressing root causes. 
Michael Dicpinigaitis, a biological sciences major in the College of Agriculture and Life Sciences, founded Big Red Adaptive Play and Design Initiative in September 2021. Today the student organization has more than 100 members who work to rewire battery-operated toys, devices and other technologies to make them accessible for people with physical disabilities. These assistive technologies are then lent out at no cost on a monthly basis to special needs communities, through the Ithaca City School District, TST BOCES, Racker and other schools and organizations.
Dicpinigaitis has received direct feedback from these partners saying that — with the adapted toys — children are more engaged, and that they are motivated to play, participate and learn in the classrooms. He will use the Robinson-Appel funding to sustain the operations of the organization, invest in new rewiring equipment and bring on new community partners to expand the impact of the program.
Each year, the awards committee selects six semi-finalists to present their projects and compete for the awards. In addition to this year's winners, semi-finalists included Adele Smolansky '23, Angelina Tang '24 and Sebastian Young '26.