May 17, 2023
Students use the Internet of Things to connect, inspire
By Caitlin Hayes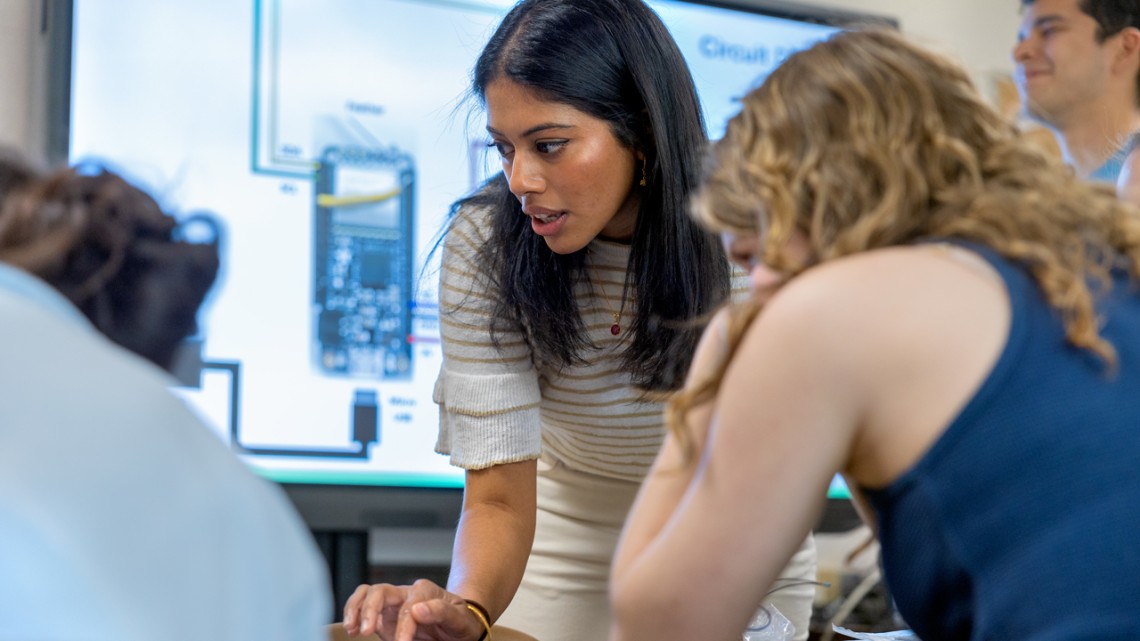 Sruti Yanamandra '22, a master's student in mechanical engineering, introduces Internet of Things technology to students at Geneva High School.
Six weeks into Professor Max Zhang's Internet of Things (IoT) course, he holds a graduation ceremony, complete with music, certificates and photos – because, after a crash course in how to build, code and extract data from sensors, the students are ready for the course's next objective: helping the community.
"The course asks the students to figure out how to use IoT to understand society, so the work they do has social impact," said Zhang, the Irving Porter Church Professor in Cornell Engineering's Sibley School of Mechanical and Aerospace Engineering and the Kathy Dwyer Marble and Curt Marble Faculty Director at the Cornell Atkinson Center for Sustainability. "Engineering curriculums usually focus on results – your grades depend on results – and we don't pay attention to relationships, how to build a mutual relationship, how to build trust. The course asks students to do both."
The class is part of a larger project, funded by the National Science Foundation, to design and implement a statewide IoT network in New York, using a form of low-frequency radio to provide services in areas without cellular or broadband access, helping to bridge the digital divide. Zhang's course, initially funded by Cornell's David M. Einhorn Center for Community Engagement, gives students a hands-on role.