May 12, 2023
Maribel Garcia awardee advances STEM education in Angola
By Ashlee McGandy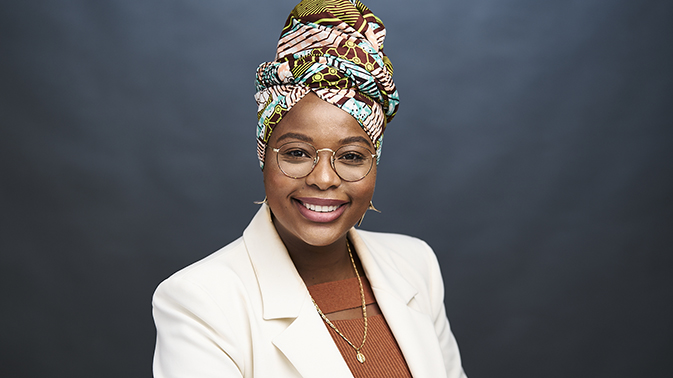 Cátia Dombaxe got excited about science at a young age. But growing up in a small, impoverished neighborhood in Sambizanga, Luanda, Angola, she didn't always have the resources or access to education to pursue her interests.
"Angola's educational system lacks many components, and one of the biggest is access to science, technology, engineering and mathematics," Dombaxe said. "Most of the schools do not contain the infrastructure or trained educators to teach STEM at the primary and elementary level."
Now a Cornell PhD candidate in the field of biomedical engineering, Dombaxe is taking steps to change that.
Next year she is launching Comunidade Ubunye: Bringing STEM Experiments to Underserved Communities in Angola with three goals in mind: inspiring a love of science among youth in poor neighborhoods in Angola, increasing the number of STEM educators in the country and empowering women through mentorship and health education. The project earned Dombaxe this year's Maribel Garcia Community Spirit Award. Facilitated by the Einhorn Center, the annual award honors a Cornell student who is making a remarkable contribution to the spirit of humanity.
To meet their goals, the Comunidade Ubunye project team will develop science experiments relevant to community needs in Angola — such as monitoring water and soil quality — and develop kits with materials for conducting these experiments. Local teachers and professors will be trained to lead the experiments and lessons.
"Our lesson plans will be designed to cultivate curiosity, critical thinking, problem-solving, empathy, collaboration and the ability for students to turn what they've learned into 'informed action' in their community," Dombaxe said.
The project will also include lessons for girls on reproductive health and how to make reusable menstrual pads.
To develop the STEM kits, Dombaxe is working with Cornell faculty and students and utilizing resources from the Lending Library of Experiments at the Cornell Center for Materials Research (CCMR). Community partners in Luanda include the Lar de Nazare orphanage and its adjacent school, the national television station Televisão Pública de Angola, local consultants who will help lead the training and experiments and a photographer who is supporting visual storytelling.
Dombaxe aims to involve at least 300 children and 50 educators in the initial phase of the project. Later, she plans to expand across the country and launch a foundation to ensure Comunidade Ubunye's long-term sustainability.
"This project aims to break the cycle of poverty by helping underrepresented communities to nurture the love for science and create an opportunity for them to attend college in the future," Dombaxe said. "We will not only empower these children through education, but we will also allow them to cultivate a daring mindset to become change-makers."
Amy Rosenberg '95 and Sam Shaber '94 established the Maribel Garcia Award in 2007 to honor the memory of Garcia, a 1995 Cornell graduate who was a creative, inspiring and energetic member of her community. Garcia died in a car accident in 1997. Previous award recipients have been recognized for their work on student-veteran program housing, Chinese language emotional support services, Black graduate and professional student support and much more.