April 21, 2023
Translator-Interpreter Program wins annual Perkins Prize
By Stephen D'Angelo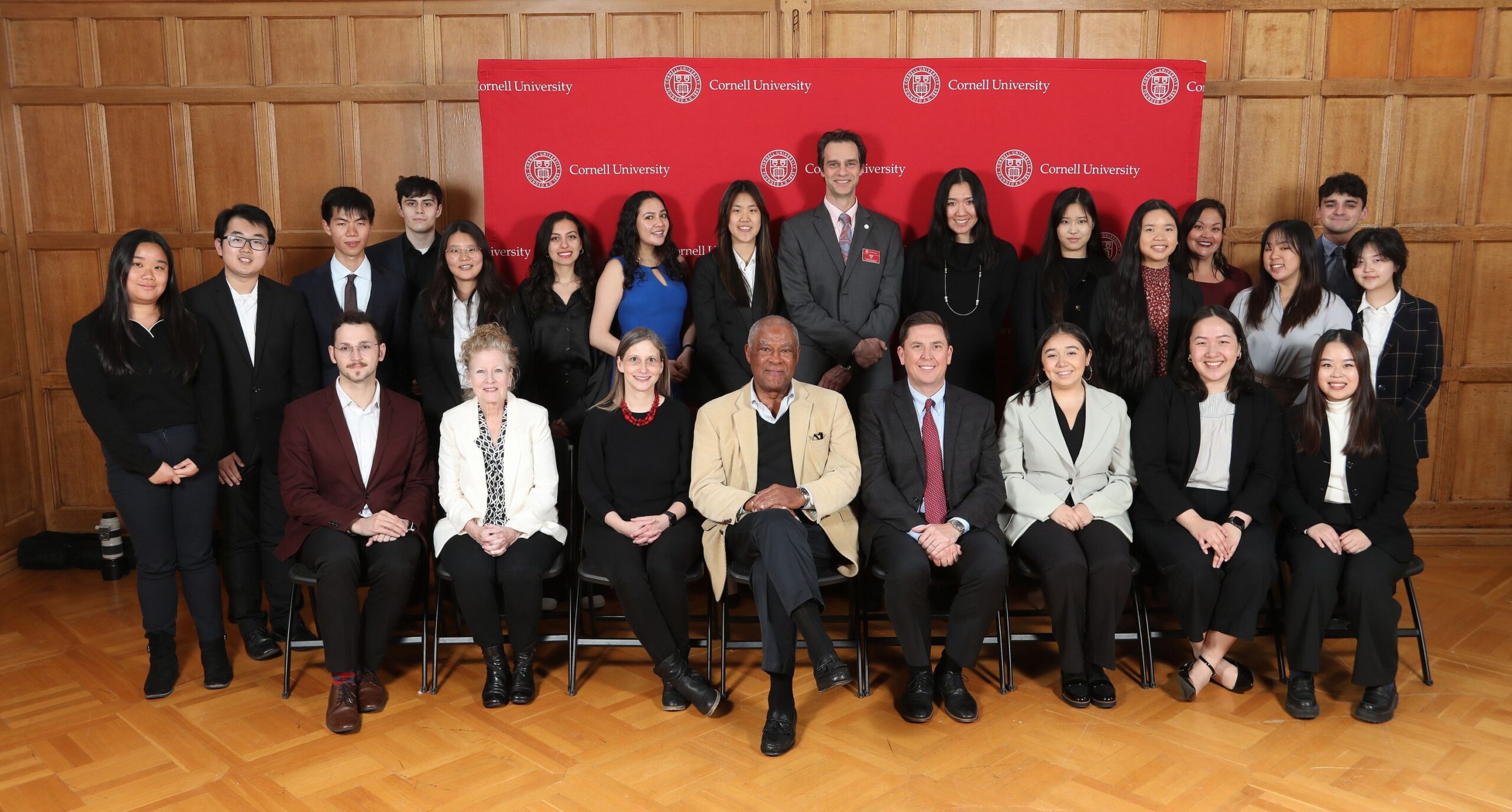 Members of Cornell's Translator-Interpreter Program, winners of the 27th annual James A. Perkins Prize for Interracial and Intercultural Peace and Harmony.
The student-run Translator-Interpreter Program, which trains bilingual and multilingual Cornell students to serve as volunteer translators and interpreters for community agencies, received the 27th annual James A. Perkins Prize for Interracial and Intercultural Peace and Harmony during a ceremony April 18 at Willard Straight Hall.
Each year, the Perkins Prize is awarded to a Cornell program, organization or event making the most significant contribution to furthering the ideal of university community while respecting values of diversity.
"Fostering a sense of belonging is an important thread in the tapestry of the Cornell community and the honorees being acknowledged tonight – as well as the many who were nominated – represent what it truly means to be a Cornellian," said Ryan Lombardi, vice president for student and campus life.
The Translator-Interpreter Program (TIP) is the oldest and largest faculty-certified, student-run translation and interpretation program in the United States. It was founded in 2000 by Fatema Sumar '01 with Joyce Muchan '97. Originally based in the Public Service Center, it is now part of the David M. Einhorn Center for Community Engagement, co-advised by Angelika Kraemer, director of the Language Resource Center.
Today, TIP is a crucial service providing help in more than 20 languages. The organization trains hundreds of student volunteers providing accessible language translation and interpretation services for more than 300 community agencies in Tompkins County and nationwide. TIP is expanding to work with educational institutions around the country to provide a model of success in addressing language barriers.
Cornell Trustee Emeritus Thomas W. Jones '69, MRP '72, who endowed the Perkins Prize in 1994 in honor of former President James A. Perkins, delivered opening remarks.
"I want to say thank you to all of the 2023 Perkins Prize honorees for giving an affirmative answer to [the question of whether] America can find a way to get to cultural peace and harmony," he said.
Receiving the Perkins Prize honorable mention was the Advocacy Project, a 501(c)(3) nonprofit dedicated to democratizing advocacy by helping to make the skills inherent to advocacy – public speaking, storytelling, outreach, coalition-building, mobilization – accessible to all.
The Advocacy Project's recent campaigns include public speaking and professional development training for formerly incarcerated individuals with Opportunities, Alternatives and Resources of Tompkins Country, training on self-advocacy in employment for parolees with the Cornell University Parole Initiative, and an advocacy symposium for Buffalo-based nonprofits working in marginalized communities.
"We are so proud of the many accomplishments of our student organizations and campus influencers, leaders, and educators," said Marla Love, the Robert W. and Elizabeth C. Staley Dean of Students. "These nominations, and tonight's award winners, truly highlight the university community and their desire to further enhance a sense of belonging that values diversity."
This article was originally published in the Cornell Chronicle.